G Network member program 
How To Make Money In The Fun Travel Industry?
Are you a traveler? Are you passionate about traveling? Are you wanting to make some money in the travel industry? If you are nodding your head, we offer you an opportunity to become one significant piece of the travel industry and in the meanwhile making substantial rewards with Gitpackage Network Program ("Program").
What Is The Program?
By registering as a G Network Member, you will be able to access www.gitpackage.com ("Website") and all the travel services available on the Website. You can introduce the Website by share your Unique Referral Link / QR code to your network (company and individual person), make booking and payment, and then get rewards from Each Network Booking! As long as your network continue to use same account make a qualified booking with us, you're be eligible for rewards in every qualified booking.

*GITpakcage.com reserves the right to these "$20 Reward for first booking" offers, this promotion is a limited time offers only it may end this promotion offers without any notice.
What Benefits You Will Get?
Enhance and Expand Your Business & personal Network
For your personal network:
Your friends and family will appreciated you to let them know, our GITPACKAGE comprehensive booking platform with amazing good price.
For your business network:
Trade (travel agency and tour operator) G-Network member - you have a privilege to display your company logo appear on top of GITPACKAGE.COM navigation bar for personalize of your business.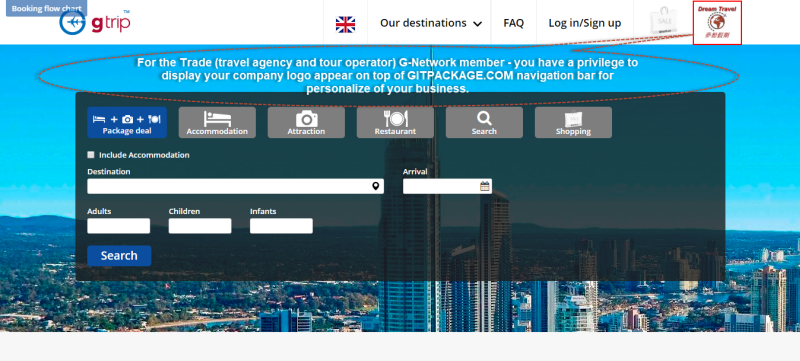 G Network personal member referral  model
G Network business member referral  model
Substantial Rewards:
By the end of each calendar month, our G Network program rewards statements it will be available in our account. Your reward payout can be use for GITpackage.com credit for your future booking OR "Cash" payment into your nominate financial institution.
your nominate financial institution can be direct bank deposit, each telegraphic transfer fees AUD$35 it will deduct from balance of reward account.
Rewards calculation are following methods:
Tier 1 If Total Booking Quantity in your account is from 0 to 49  qualified transactions, the Network Rate will be 1.0%; and
Tier 2 If Total Booking Quantity in your account is from 50 to 99 qualified transactions, the Network Rate will be 1.2%; and
Tier 3 If Total Booking Quantity in your account is more than 100 qualified transactions, the Network Rate will be 1.5%.
*Total booking quantity is accumulate of any bookings you had invited from your network.
** GITPACKAGE.COM the right to withhold a reward in the case of a suspicious reservation.
Setting Up Your Own Business: Get Started Easily.
Not a G-Network member yet? Click the "I agree to G Network program agreement" button to get started.